A secure, centrally managed content repository, providing unified control over all types of content across the enterprise.
Organizations are looking at Enterprise Content Management (ECM) in a fundamentally different way. In the past, managing content was often treated as a "cost of doing business"–a necessary expense to capture and store documents, often as a last step, and only for documents deemed to be critical business records. Times have changed. Rather than treating ECM as simply a cost- control investment, progressive organizations, strategic CIOs, and business leaders are taking a new path; one that looks at ECM's inherent abilities to aggregate, manage, and share information as the gateway to driving productivity through digital transformation.
The technologies that support ECM are changing too. There is a shift from the pure document management and records management capabilities of the past to a broader, more comprehensive approach suited to: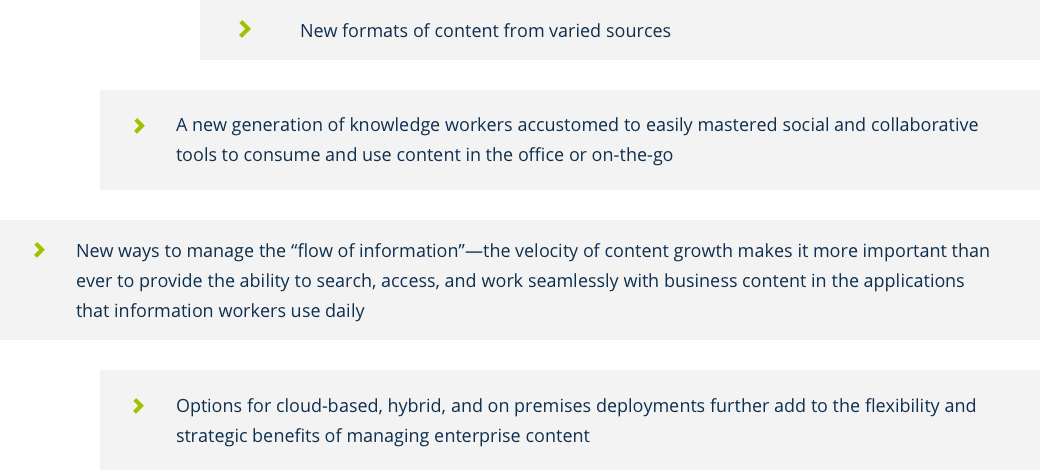 The new generation of ECM solutions is dynamic and fully integrated; no longer a one-way destination where content is relegated for long-term storage but a multi- lane backbone facilitating information exchange with systems and individuals across the enterprise. OpenText Content Server—with its capabilities to support Process Productivity, Personal Productivity, and Control—is uniquely positioned to provide a foundational document management platform helping enterprises achieve success through digital transformation.
Content Server features include:
---

Document Management
A powerful, fully integrated system that delivers the essential capabilities for managing business- critical content from across the enterprise.
Content Navigation
Content Server provides a number of powerful means to get users to the information they need—fast and with confidence they're working with the single source of the truth

OpenText Content Server is designed with
user productivity in mind, offering a simple, responsive UI with role-based views to enterprise, project-oriented, and personal workspaces from the desktop or a mobile device to extend content creation and sharing outside the Enterprise without compromising control. Users access the information they need fast, with powerful content navigation through full text and metadata search filters. A number of pre-configured widgets are provided to simplify building custom interfaces. The Smart UI eliminates adoption as a barrier and is seamlessly extensible to other business applications.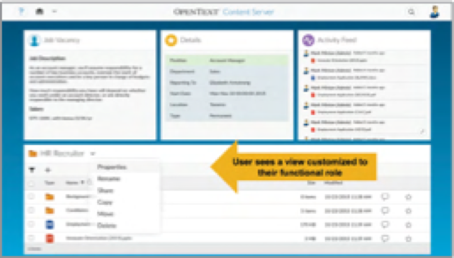 Content Server Smart UI makes it possible to tailor the Content Server experience for different roles (as defined by the organization). The Perspective Manager provides a simple interactive tool to achieve this, with minimal technical knowledge or effort.

Content Server features an embedded, proprietary search engine, incorporating innovations from nearly two decades with proven scalability beyond 500 million indexed objects critical to email archiving environments. It provides permissioned and actionable search for key activities like classification, litigation holds, and disposition searches.

In addition to search, content filters—or faceted browse—allow users to filter content using metadata, while Virtual Folders enable users to save their own unique path to sets of content by configuring dynamic views of content regardless of its physical location.

For many users, visual navigation provides the fastest route to get them where they want to go. Document Thumbnails generate and display first-page image thumbnails of documents.