THE INFORMATION DILEMMA
Many organizations are experiencing an exploding growth in business information, as well as an increase in regulatory requirements. Unfortunately, this mix of opportunity and risk is hitting IT departments at a time of serious cost cutting. Legacy and enterprise applications are bursting with different forms of information: transactions, documents, voice recordings, xml data, print streams and other types of structured and unstructured data and content.
This accumulation stretches capacity to the breaking point, with higher costs for servers, storage, application maintenance, database software, and operations.
Keeping all information in its source application is neither cost-effective nor scalable. And backup is only a temporary measure; difficult to access and not a compliant solution. Deleting everything is also not an option because of regulatory mandates and internal policies for information retention due to privacy, security and legal preservation requirements.
In addition, many organizations are spending millions to maintain legacy applications that are kept alive solely for their data. This is an unnecessary drain on IT – not only for their high costs, but also for the scarce resources needed to maintain these systems.
The ideal solution to all these challenges must have the capacity to: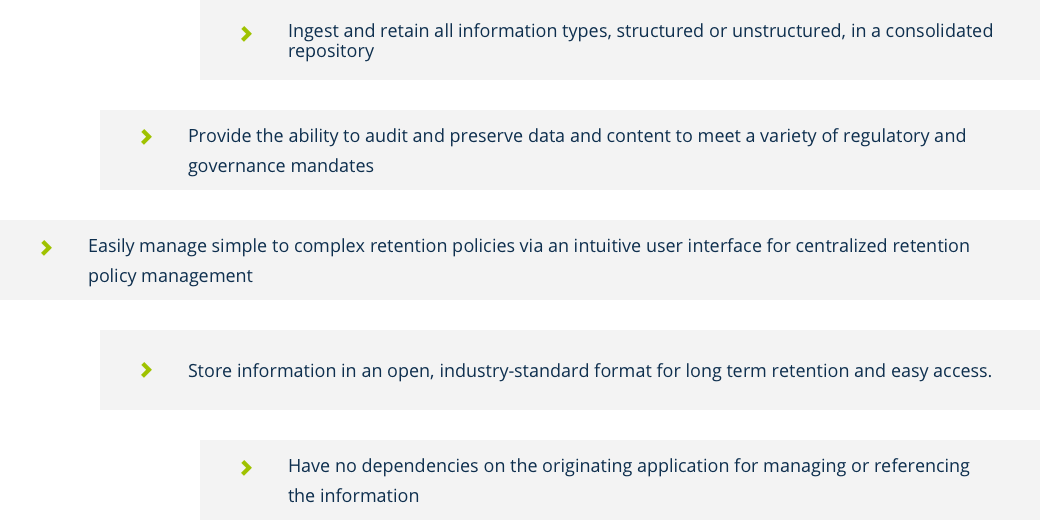 InfoArchive is an integrated product suite that enables organizations to reduce IT complexity and costs, optimize infrastructure and ensure compliance for valuable and regulated information. Structured and unstructured information from multiple applications is then managed by a single application, removing information silos and streamlining access control and compliance management. InfoArchive provides mechanisms to not only safeguard the integrity of the content, but also to ensure continual access throughout the entire retention period.
A UNIQUE APPROACH TO INFORMATION ARCHIVING
InfoArchive represents archived information as xml objects, making unified access, query and reporting easy and fast. Tens of billions of objects can be archived, reducing cost of ownership. The benefits of archiving with InfoArchive are cumulative, so cost savings increase the more you archive.
InfoArchive helps meet compliance requirements such as retention, data encryption, electronic signature and time stamping. It also supports PCI-DSS (Payment Card Industry Data Security Standard) and complies with the Open Archive Information System standard (OAIS).
InfoArchive provides unified access to archived information so that authorized users (auditors, partners, employees, customers) can quickly find the information they need. Users can search for data across multiple datasets concurrently. Search times have been about two seconds for enterprises that archive millions of documents and data records per day.
Unlike any other archiving solution, InfoArchive's unified approach to application archiving reduces costs, satisfies compliance regulations, and enables application decommissioning in a single efficient and scalable enterprise software solution.