Do You Have These Fax Challenges?
---
Employees waste too much time with unreliable and inefficient paper-based faxing

It takes too long to process fax-dependent workflows because faxing is not integrated with enterprise applications

Your current fax solution isn't reliable or meeting the needs of the entire enterprise

You need to make sure that faxes are secure and reduce/eliminate compliance risks

The cost of paper-based consumables and standalone fax machine maintenance is too high

Paper-based faxing does not fit with your organization's digital initiatives

RightFax meets these challenges by digitizing fax communications, integrating with email and enterprise applications, and automating fax and secure information exchange with your business workflows.
Open Text RightFax Server
---
The RightFax family of fax servers provides enterprise fax and electronic document delivery capabilities. Designed to be scalable and expandable, RightFax Servers can meet the document delivery needs of any size organization, from small departments to the largest enterprises. RightFax Servers help organizations to reduce costs, improve productivity and meet compliance goals by integrating fax with email, desktop and document management applications or enable high volume document delivery from CRM, ERP and host applications. RightFax is the fax server market leader, with nearly five times the market share of any other vendor. RightFax Servers provide unrivalled, scalability and ease of use for IT staff and desktop users alike.
Protecting the privacy of sensitive information is important to you and your customers. You are bound by the governance policies of your company and, in many cases, regulatory agencies to keep protected content private and secure. RightFax fax server operates under the assumption that security is your top priority, with strict measures in place to protect your content.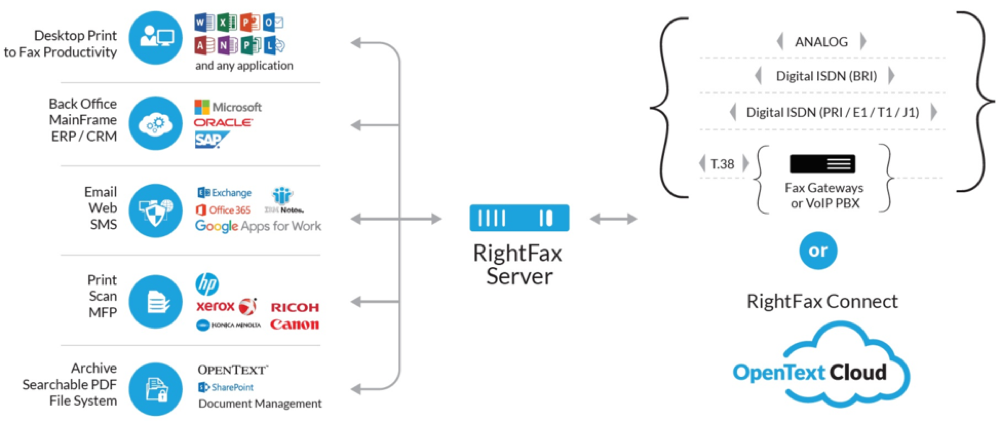 RightFax Key Capabilities
---
RightFax offers a comprehensive set of features that allows you to eliminate standalone fax machines and inefficient handling of paper-based faxes. It is part of an electronic workflow to speed processing and handling of the content that drives your business.
Market leader in enterprise-grade faxing

Fully integrated and centralized fax server

Increased Compliance through Security and Privacy

Fully Auditable Receipt, Tracking, and Reporting

Capture Content with RightFax
Effortlessly support high volume, automated faxing

Integrate fax with desktop, email, enterprise applications, custom applications, MFPs

Consolidate and centralize faxing in a single solution, including support for virtual and multi-location environments

Support business continuity with disaster recovery and high availability configurations
Integrate with key business applications—ERP, ECM, CRM, EMR and virtually any system for faster and more secure exchange of business-critical documents. Pre-built integrations are available for OpenText™ eDOCS, OpenText™ Content Server, IBM® FileNet®, Microsoft® SharePoint® and a certified connector for SAP®

Use existing telephony infrastructure including Voice over IP for a robust UC strategy that includes fax

Send faxes as easily as emails with email integration with any SMTP email client, including Microsoft® Office 365®, and Gmail™. Pre-built integrations from OpenText are available for Microsoft® Outlook® and IBM® Notes®

Leverage your investment by integrating with your existing MFP fleet and get rid of fax machines forever
Legally recognized form of confirmed delivery and/or receipt in most countries

Point-to-point transmissions are immune to viruses, malware, and interception (unlike email transmissions)

Helps to maintain compliance with regulations such as HIPAA, Sarbanes-Oxley, and other protected information requirements

Electronic delivery of faxes ensure content remains private and does not it in open public areas with unauthorized access

Choose secure document delivery via fax, encrypted PDF via email, and web-based certified delivery
Instantly verify document transmission and receipt with a full audit trail and customizable notification options

Provide auto-reply responses from one or more RightFax mailboxes for inbound faxes and fax replies to the sender

Over 40 standard reports available and unlimited number of customized reports
OpenText™ Capture Center uses the most advanced document and character recognition capabilities available to turn documents into machine-readable information. Capture Center captures the data "stored" in scanned images and faxes and interprets it, leveraging the most advanced tools in the market to extract information via a range of data extraction methods: barcode, OCR, ICR, IDR, patch code, optical mark recognition, forms reading, free forms recognition, database driven recognition, and Adaptive Reading Technology.
Using capture technology with RightFax reduces manual keying and paper handling, accelerates business processing, improves data quality, increases compliance and saves you money.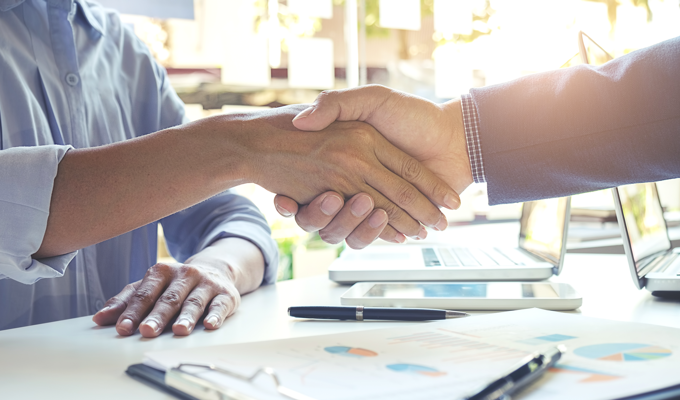 Increase business agility
Increase the speed of information exchange by integrating RightFax with business applications, such as ERP, CRM, EMR and document management tools

Shorten business cycles by leveraging integrations to automate the exchange of information

Better control over secure information exchange and business processes

Facilitate growth with faster business expansion

Focus on your core business to differentiate and be more agile than your competitors
Increase productivity and efficiency
Increase visibility and make better business decisions with deeper insights into transactions and performance trends with RightFax Analytics

Increase productivity by sending, receiving, and managing faxes electronically

Integrate with any email application to manage fax traffic as easily as managing emails

Integrate with MFP devices to fax paper documents any time you need to do so

Consolidate and centralize all faxing operations in a single solution to maximize visibility

Flexible deployment options and configurability provides the foundation to grow and change as your business needs change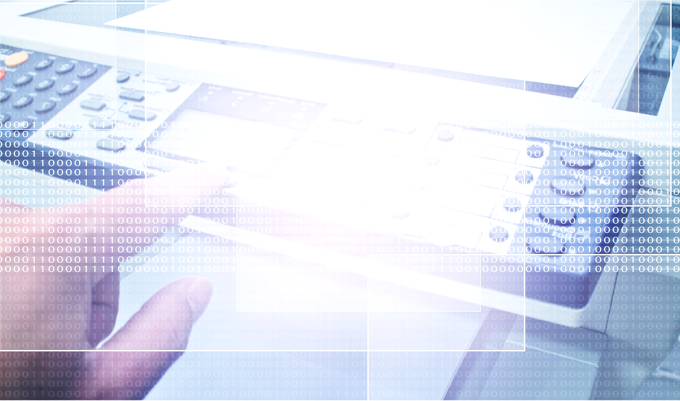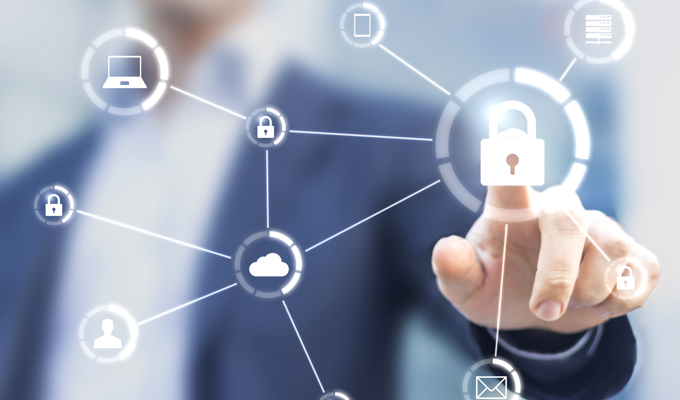 Keep content private and secure
Maintain compliance with regulations to keep sensitive information private and secure

Meet growing regulatory compliance requirements regarding protected information and establish defensible governance policies through full audit trail of fax history

Protect content with restricted access to any and all fax transmissions